Used a community cycle for the first time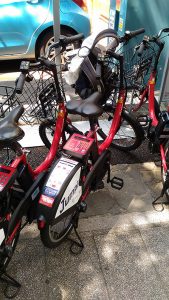 I used a community cycle for the first time.
We can rent a bicycle and then return it to any port in nine wars of Tokyo.
Seven-Eleven Japan, Docomo Bike Share and a company of Softbank group put ports together in 2017 ( THE YOMIURI SHIMBUN said ).
This map is below.
The bicycle which I rent could change speed with gears.
It started smoothly because it was a E-bike which I road for the first time.
It had a large basket which could carry my knapsack.
I was disappointed that its saddle was too low for me.
I want to rent the next bike which saddle is more high.
Few cars run on a road because it was Sunday, so I could ride easily.
The rent for the bicycle was only ¥162 ( including taxes ).
If you ride there in thirty minutes, the rent is this price.
A mobile app "bike share" which has functions of searching ports and renting bicycles is useful.